Three Online Slot Machine Tips
Smart Progressive Slot Play
So you've decided to go after that huge online progressive slot jackpot. If you're playing slots because you want to strike it rich, progressive jackpots are for you. Because progressive games set aside a small portion of all the money players bet and put it towards the ever-growing jackpot, smaller payouts happen less frequently. Basically, playing progressives is an all-or-nothing proposition.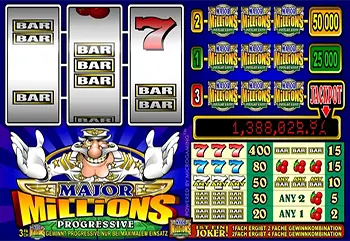 Play Major Millions at one of these great online casinos
Progressive jackpots are the true dream makers of the online gambling world. Online casinos offer an ever-increasing array of life-changing jackpot games. Perhaps the biggest and best-known online progressive game is Major Millions. It's a three-payline, three-reel and three-coin progressive slot machine with a wild, doubling symbol. Three Major Millions symbols on the third payline pays out the Progressive Jackpot if you have bet three coins.
Your decision whether or not to chase that humongous online progressive jackpot should be based on your motivation. If you are on a limited budget and prefer to maximize your playing time, then it's best to stick with machines offering smaller jackpots. Lower jackpot machines offer smaller but more frequent wins and you will likely make a few bucks.
Try to maximize your potential progressive slot haul by having a close look at similar progressive games. Some of the games may be the same except for the current jackpot total. It behooves you to always choose the machine with the highest accumulated jackpot among similar machines.
Be sure to keep in mind that all online progressive machines require you to bet the maximum number of coins to be eligible for the big jackpot. If you play these machines, you've chosen to forego more frequent small profits for a shot at a big payout, and that payout will only go to players placing the maximum bet.
I wouldn't recommend chasing an online progressive slot jackpot by betting house and home, but there is nothing wrong in going after that big prize with a portion of your gambling money now and then. You never know when Lady Luck might smile on you.